"Retirement life has changed tremendously. We don't need a partner or kids to take care of us when we get old because everything is so convenient. If you want to eat something, you can order it online. If you want to go anywhere, you can take BTS. Technology has made single life easier. I feel free, happy, and definitely, this is the life I want."
A good life is when you know exactly what you want in life
Khun Oak Rattapong Jaroenwuttipong
, aged 40, who is the owner of a clothing brand Be Dazzle shares his perspective on the single life. We can see how happy he was with his life during the interview.
"I'm 40 this year and have been single since 30. The older I get, the more I feel like this is the life for me," said Khun Oak.
"There are several reasons I want to stay single. First, I considered myself a workaholic, especially over the past 10 years. My working hours have been roughly 10 hours a day. I can imagine that could be very stressful for my partner. I also need to take care of my parents. And the most important reason is I cherish my freedom and my space. Therefore, I lived a single life to the fullest and make sure to be healthier when I got older."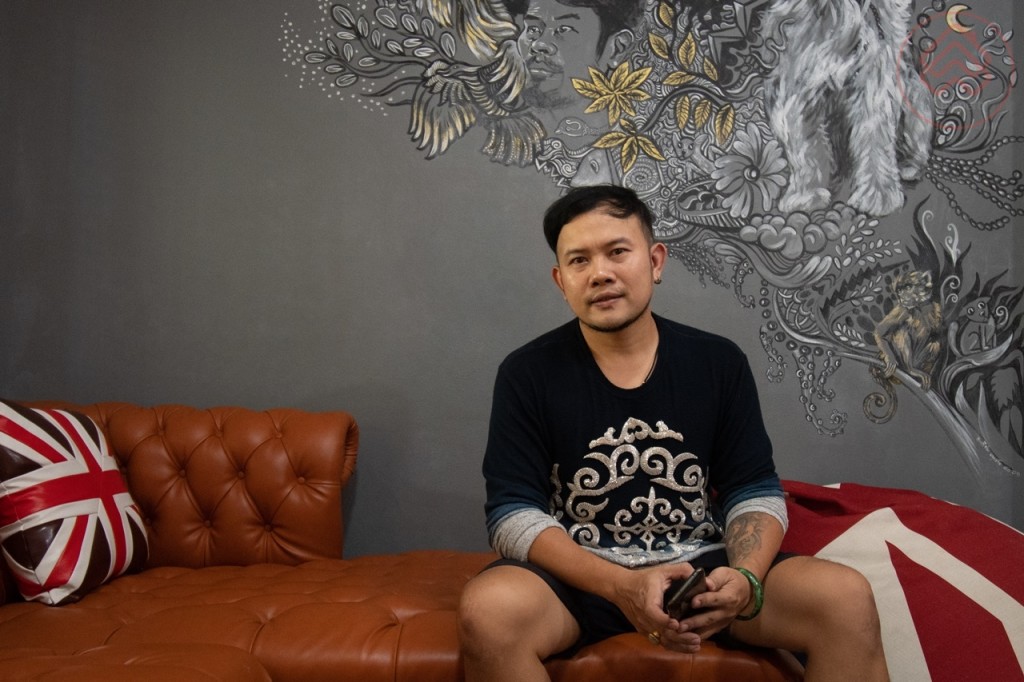 Selling the old house to get the dream house
Khun Oak himself currently owns a small townhouse in Srinakarin. Even though such an area seems to be remotely located from his workplace and alter his usual daily routine, it perfectly fulfilled his needs and happiness after renovating into his preferred style. He enjoyed every aspect, and it truly is a home sweet home for him.
How to make money from buying and selling property
"I picked out materials, colour, and painting patterns for every part of the house. I chose what I like and things that present who I am. I even had my friend, who is a graffiti artist, painted the wall. Every time I see it, I feel like… this is my home."
"I was living in an old house in Lad Prao before and I love it there because it's very convenient to go to work, to hang out with my friends, it is near BTS, plenty of food choices available, everything was just perfect. But I didn't live there permanently, so the house was worn out and, right at that moment, my relative wanted to sell the house in Srinakarin, so I bought it."
"I bought the house because just in case my parents come to visit doctor appointments or meeting other relatives. With the old house, I had an acquaintance who is an agent selling it off, and it was sold within 2-3 months. I quit my job and started my clothing brand "Be Dazzle" in Chatuchak Market. I was travelling around with mainly the BTS sky train. At first, I thought I was quite far, but now I'm used to it. It took me around 45 minutes to the shop, so it's not a big deal."
"I can confidently say that this is my dream house. I intended to make it as comfortable as I could, so I invested a lot in the bed's quality and atmosphere. When I get back from work, I can simply sit down on my couch and comfortably watching tv with my dog."
"I have my bedroom only for sleeping. I used to have sleep deprivation, but now I can fully charge myself and wake up with a refreshing feeling. I enjoy walking in the garden in the morning and sitting near my fish pond listening to the sound of water. It recharges me so much with energy and happiness. No matter how hard the work was, when I came home, that feeling disappeared."
Retirement Planning for Singles
Living in the cities with high living expenses can be a challenge for saving money for many people. But I can still have some savings since I haven't splurged on anything except for trips abroad once or twice a year. That was the only time I can truly buy my happiness.
Aside from that, my previous experiences had taught me that property investment proved to be the worthiest type of investment. Just buy a piece of land where the location is predicted to grow in the next 5-10 years and reselling could give a high return, so I prefer to save my money in the property rather than in cash.
"Now I have two pieces of land which I intended to build some business on it when I get older, and also looking for a new condominium to invest as well."
Save Time, Use a Pro
"I'm not an expert in the real estate industry but like to invest in property, so having a professional sorting it out for me could be a better decision. The main tools I use are agents, who are professional in this field. They could give a lot of useful information but make sure that the person who you're talking to is reliable. The second tool is property websites."
These websites offer useful information for investors who got no time on hand as it summarises trends and predicted growth of interesting locations. Some websites ease the process by having lots of useful tools for the investors such as comparing information, reviews and website like DDproperty offer analysis report as well. I like it. I chose DDproperty as my main source of information because of its reliability.
When I have a reliable source, I can search through pictures and information before making a buying decision.
Stay abreast of the industry's news and updates sending directly to your inbox, sign up here.