A lifetime seems to have passed since Thailand reported the world's first imported case of Covid-19 from China in January 2020.
But as year three of the pandemic begins, Thailand remains in a quagmire with its property market reckoning with another iteration of the virus.
Reopening remains a fraught issue for the tourism-dependent economy, which had been predicted to grow by just 0.9 percent in 2021.
Through a carefully coordinated system of quarantine exemptions and sandbox schemes, the kingdom tentatively welcomed over 400,000 tourists. The total far trailed the 6.7 million arrivals recorded in 2020. Nonetheless, it offered an existential boon to consumer sentiment.
To intubate the real estate sector, the central bank in October started bending loan-to-value (LTV) rules, allowing buyers of second and third homes to take out mortgages equivalent to 100 percent of the property value. The eased curbs stood to catalyse speculative activity in investment-class condominium units. But macroeconomic fundamentals stayed problematic.
Purchasing power has out-and-out slumped, with household debt soaring to 89.3 percent of the GDP as of Q3 2021. In a recent survey by property portal DDproperty.com, around 66 percent of consumers have cited loss of income as a deterrent to purchasing a property.
could ask the government for anything, it's to help support the economy to get back to normal," says Jeremy O'Sullivan, head of research and consulting at JLL Thailand. "We need more thoughtful efforts to help businesses start producing, exporting, and employing more people. There has to be a much bigger focus than finance."
Condominiums are oversupplied and overpriced because of speculative demand from investors during pre-Covid-19 times. New projects must be priced realistically for the local market to sell
Developers have focused on delaying launches and clearing condominium stock, 728,000 units of which have stagnated in Bangkok alone, according to JLL. Having inundated the market with launches before 2019, developers have attempted to stimulate it with up to 30 percent in discounts as well as waived shrinking funds, among other gimmicks. Bangkok condos of all grades averaged at a price of THB105,279 (USD3,130) per sqm last year, with new launches fetching around THB80,000 per sqm.
CBRE Thailand believes it will take up to two years to clear unsold inventory. The absorption rate of unsold units has decelerated to 6,000 to 7,000 units per annum.
"Condominiums are oversupplied and overpriced because of speculative demand from investors during pre-Covid-19 times," says Artitaya Kasemlawan, head of residential sales project, advisory, and transaction services at CBRE Thailand. "New projects must be priced realistically for the local market to sell well."
Developers are keeping themselves solvent by segmenting property seekers with almost laser precision. Low-rise housing priced at THB3 million to THB15 million as well as affordable, commuter-focused condominium developments are rewarded with impressive sales rates nowadays, report JLL and CBRE.
"The ones that are doing well have been very well tailored by the developers to meet a very specific demand category," says O'Sullivan. "There has to be a loser somewhere, and the loser will be the person and landlords that have not optimised their property to meet a very specific demand group."
The luxury market appears inoculated against pandemic-induced headwinds. Residential properties priced between THB5 million and THB15 million decreased their supply year-on-year in 2021 while their more affordable counterparts increased, according to DDproperty. With price points now a little under THB300,000 per sqm on average, super-premium Bangkok condos have never been more beguiling, JLL data shows.
"We predict that the premium, the super-premium, and luxury type of properties will be the first to see a positive return of activity," predicts O'Sullivan. "The performance of mid-level or more affordable kinds of units are directly tied to economic recovery because it's very much dependent on salaried workers."
"Luxury buyers invest when there is an opportunity for getting a good deal on an attractive project in a prime location," says Artitaya.
In a bid to lure high-net-worth individuals, pensioners, digital nomads, and skilled professionals from overseas, the Thai cabinet approved in September a stimulus package offering 10-year visas and other privileges to those who can invest at least USD250,000 or USD500,000 in real estate or their equivalent in government bonds and foreign direct investment.
But with travel restrictions tethering the Chinese to the mainland and Thai developers refraining from overseas sales roadshows, impact from the scheme would be minimal at best initially, according to O'Sullivan. "The price points are typically not the target of the Chinese investors, which were the single biggest international buyer category pre-Covid."
The reopening efforts were nonetheless able to pique international interest in the kingdom's resort destination properties. After the sandbox model launched in Phuket in July, CBRE Thailand reported having fielded numerous inquiries for vacation or second-home properties from foreign residents, expatriates, and tourists. By November, tourism authorities announced more confident strides towards open borders, letting vaccinated people from over 60 countries skip quarantine under the "Test and Go" scheme.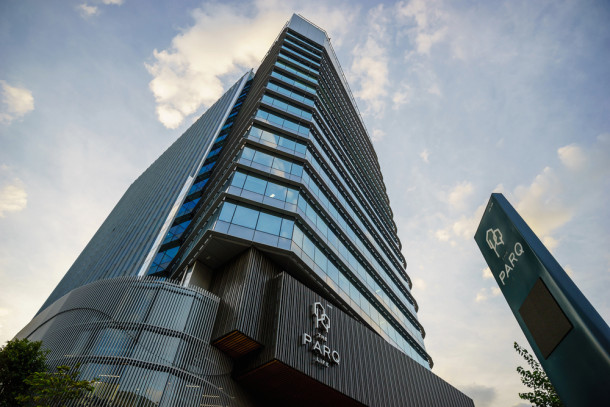 Still, the proportion of foreign buyers in the housing market stood at just 10 percent —"not significant" enough, concedes the Real Estate Information Centre (REIC).
"The economy and the real estate markets are very sensitive. They want to see a light at the end of a tunnel," says O'Sullivan. "And by the government setting this path, even though it's not hitting the figures exactly, it's keeping the industry positive, which I think is the best impact it's having so far."
Bangkokians and other locals (those with the means to do so anyway) have learned to retreat to the fringes of the Thai capital where they can work in space and privacy from their single detached homes.
The price index for landed residential properties last year rose 13 percent from Q3 2019 or well before the pandemic while that of condominiums plummeted 16 percent, according to DDproperty. Median asking prices hit THB40,000 per sqm in the subdistrict of Thawi Watthana alone, posting a record 83 percent annual price growth.
"Locations with the highest price growth are in Bangkok suburbs because most landed properties in these areas are more affordable for the majority," states Kamolpat Swaengkit, country manager of DDproperty.
"In addition, the expansion of BTS and MRT routes makes traveling to the city much more convenient."
With 460 kilometres of mass transit lines poised to go online, Greater Bangkok could soon rival the London Underground in sheer length halfway through the decade. The pandemic will surely have been defanged by then.
Should the government's vaccination drive and reopening efforts succeed, new home sales could climb back to pre-pandemic levels in 2023, predicts the REIC. But as previous waves of the disease have shown, caution is the only real safety net in the pandemic era.
With many expats having left, rental suppression reigns supreme in large swathes of Bangkok. "Rental yields are going to take years to recover," says O'Sullivan.
"Capital gain has always been a tough one in Thailand," he adds, "because the resale market is quite difficult, and new supply has typically been favoured by Thai buyers. It's not always true, but it's a trend we do see."
Over the next year, end users will be the key demand group for residential Thai property. It thus falls on buyers to view their purchase through the prism of an owner-occupier.
"Buy it because you enjoy it yourself," says O'Sullivan. "I think it's the message at the moment."