Thailand for Expats: A Property Rental Guide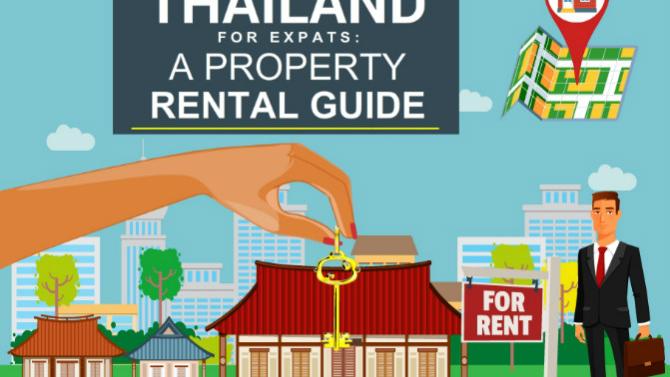 Thailand has emerged as one of the world's most popular destination among expats. Although, the reasons are many; Thailand's real estate is one of the prime reasons for the influx of these expats. But before we look at a few of the facts about the real estate sector in Thailand; we need to take a look at some quick facts about Thailand (You can also take a look at the awesome infographic we have created here).
Quick Facts:
• Thailand is a country with a population of around 67.01 million people.
• Bangkok and Chang Mai are the most popular city for expats in the country.
• The official language is Thai.
• Agriculture, forestry, fishing tourism and manufacturing are the main industries in Thailand.
The people who come to Thailand to call it their second home often find the picturesque beaches and the food quite tempting, which is why it's one of the world's favorite tourist destinations as well. However, since we are talking about expats, they need a place to stay and won't be leaving the country anytime soon. Let's look at some of the most in-demand types of rental properties they find most alluring.
Share this Image On Your Site
Serviced Apartments: The most popular type of accommodation having hotel like services with housekeeping services makes these properties the most sought after among expats.
Rented Condominiums: Coming in at second; rented condominiums offer a luxurious ambience minus the added benefits of a serviced apartment.
Town Houses: Town houses also happen to be one of the most popular rental accommodations since they offer additional living space compared to condo and at affordable rates also lesser costs compared to houses.
Houses: Typically, 2-3 times larger than the town houses; they offer convenient living, the maximum space at higher costs compared to others.
Being the capital of the country; Bangkok isn't cheap when it comes to property rental with rents typically varying between THB 5,000 to THB20,000 for a small apartment and between THB10,000 to THB50,000 for a comparatively larger accommodation. However, if you were to move to other areas within the country you would find yourself shelling a lost less with rents varying from THB3,000 to THB11,000 and THB7,000 to THB26,500 for a small or large apartment respectively. Rental yields vary from 5% to 8% in Bangkok which has seen yields increase significantly for a medium sized apartment.
The one question an expat would often find themselves asking is where should they rent a property in Bangkok? This can get pretty confusing since the city's booming and almost all the areas have witnessed significant real estate activity. However, if you want the very best, here are the top areas you should check out:
• Chit Lom
• Nana
• Thong Lo
• Surasak
• Pholen Chit
• Phra Ram 9
• Asok
• Phrom Phong
• Saphan Taksin
• Lumphini
Thailand property rental scene has been growing ever since the economic boom hit the country. With so many multinational companies and foreign organizations active in Thailand; the need to rental properties have hit an all-time high. This boom is here to stay and the chances are that a much higher number of expats will be hitting the shores of this nation in the coming years.