"Retired couples do not need a lot of space in their homes. A safe neighbourhood and great location within the reach of facilities and hospitals are much more important."
Khun Anchalee, who decided to inspire her husband to live in a high-rise condominium instead of living with their children in a single-detached house will be sharing her interesting point of view that a high-rise condominium could fulfil their retirement lifestyle as well.
Single-detached house to high-rise condo
If we asked about the dream house for retirement? Most people would say that it's a
single-detached house
, including Khun Anchalee.
She intended to live in the old house, but eventually decided to move out to a high-rise condominium at Lumpini Place Pinklao 1 on Baromrajchonnee Road (Baromrajchonnee 35). The condominium is near MRT Bang Khun Non and Siriraj hospital which is very convenient since her husband needs Haemodialysis weekly and she also has Osteoarthritis.
"Because there are only the two of us, we don't need a lot of space. It's easier to clean and manage just the condominium space. The location has many types of transportation systems available and is near the hospital, restaurant, and close our their children's house, also, the scenery is superb."
Khun Anchalee wanted a space where she and her husband could spend time together, convenient and safe. She wanted to live on their own without relying on their children, but also wanted it to be near them, so they can visit each other easily. Another reason for buying the condominium? It will be passed down to their children and to rent out or resale. For these reasons, a high-rise condominium seems to answer all the needs of Khun Anchalee far more than a single-detached house.
Favourite activities in a limited space
The main reason that retirees choose a single-detached house more than a high-rise condominium is because of the bigger space available since they spend almost 24 hours doing the activities at home and prefer not to interrupt other members of the family, so having a lot of space could solve the problem.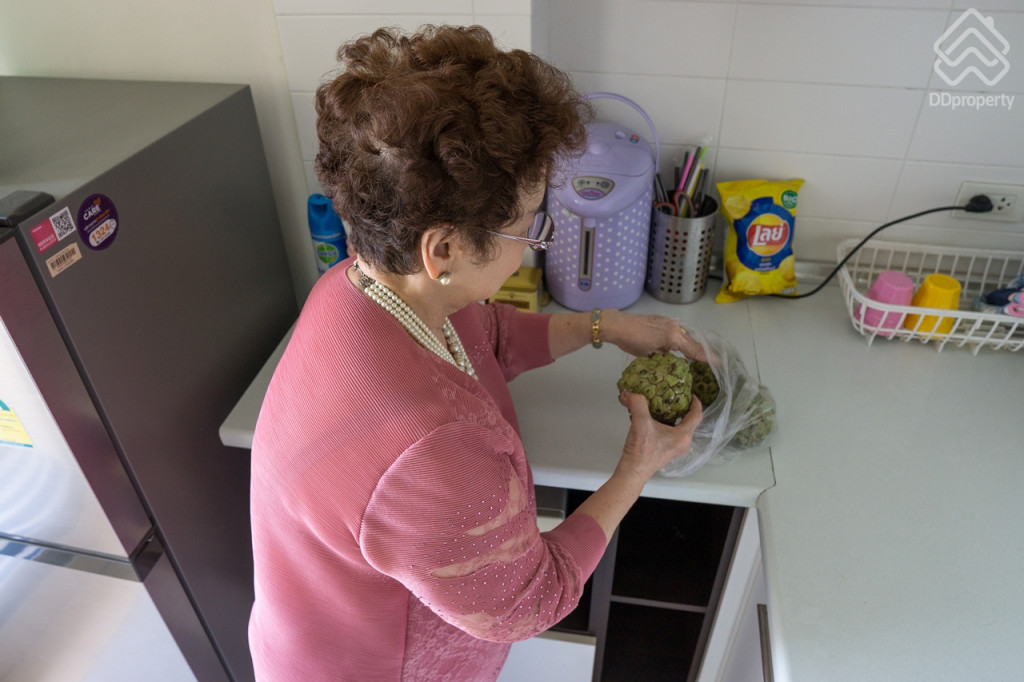 "It depends on the individual preferences, whether you want a huge or a small space. I didn't need all that space, because there are only two of us. When the space gets smaller, it's easier to take care of and the other additional cost reduces as well. One of my favourite activities is planting. When moving to a condominium, all I need to do is change from the big trees to plant smaller plants or even have the fake plants in the house. There are a lot of small plants that could be planted in a condominium such as Monstera, Pink Syngonium, and many others."
"Even though the space for doing activities became limited because of the property size, we could still manage the lifestyle to fit high-rise condominium. However, the space needs to be big enough to do your favourite activities, to try something new or to do things you need to do. Therefore, calculating the space for all family members is important and should be one of the main criteria that is needed to take into consideration."
High-rise condominiums allow living by yourself
"The space is not as important as you can live by yourself in this high-rise condominium. We decided to move out, so I band my husband wanted to rely on our children as little as possible. It took me a long time before decided to buy a high-rise condominium for my retirement. We listed the things that we need, including that it has to be near Siriraj hospital, where we have a doctor's appointment regularly. It also needs to be close to our children's house, allowing us to come by easily. All facilities and a trustworthy security system are also on the list. Condo staff need to be available just in case any emergency happened."
"Living by ourselves differs from living with our children. They took care of us and made our life a lot easier. The high-rise condominium that we chose has common areas such as swimming pool, fitness, sauna, playground, garden, library, convenience store, restaurant, laundry shop, beauty salon, and the rest."
"When the room space became smaller, having common areas for doing various activities are crucial. Not only is it more convenient it also makes us feel less lonely since we can do activities with friends around the same age."
Hunting a dream condominium online
"We listed the things that we want and we asked our children to help us choose. As we are older, we are not that familiar with online websites. Therefore, our children did all the research and gave us some information. They often mentioned DDproperty, so that's when we did further research for the condominium by ourselves."

Khun Anchalee is one of the Baby Boomers, who now feels more familiar with offline media, whereas her children are Gen Y, who grew up with online platforms. When they were given searching for a high-rise condominium for their mother, they were using online media as the main source. They found the DDproperty website which has plenty of useful information.

Apart from residential projects, DDproperty also offers real estate market reports, consumer market surveys, and consistently update interesting information to help consumers who want to buy and sell a property. This information allowed Khun Anchalee less experienced in buying property to find the high-rise condominium of her dreams.
3 factors that help retirees to live in condos
After our conversation with Khun Anchalee about the high-rise condominium, she suggested that 3 factors make it easier for retirees to live in a condominium.
The surrounding area has to be great. Not only the next-door neighbours, but also condo staff and security guards just in case any emergency happened.
A great location which allows easier travel. Also, having a convenience store, shopping mall, and a market nearby is needed. It also needs to be near a hospital.
The space must be big enough for all the family members in the home. Khun Anchalee only lives with her husband, so having a small kitchen, and a balcony to feel the fresh air in the morning or to have dinner while enjoying the view, having a living area big enough to do some activities with her husband are more than she needs.
How about a high-rise condo for your retirement?
"A high-rise condominium is another alternative for retirees who need little space but do need 24 hours security and great facilities nearby. The perfect location for each individual should be chosen carefully."
"People who want to buy a high-rise condominium, to live alone, or to live with a partner after retirement, who not only needs and expects a great lifestyle, need to plan and sort out their requirements. For example, a great location and to make sure the condominium suits the independent daily lifestyle of each person."
"As our bodies get older, and our children may not come by to take care of us as often, we need to be prepared, both our health and our home has to be ready for any unexpected situations."
Stay abreast of the industry's news and updates sending directly to your inbox, sign up here.