Khun Gib Suttimon Oonnapirak from Giftounblog, works freelance for Graphic Design and Online Content, uses her house as part of her office. Therefore, the criteria for choosing the house is that it needs to be her office and important to travel around with ease.
As Khun Gib had lived in various types of properties before, allowing her to have clear visions of what she needs for her house and which type would suit her partner and future family the best.
Property, Past, Present, Future?
I was born and raised in a townhouse that my parents bought until I was 23. Then, my parents retired and wanted a more spacious place, so they decided to spend their savings and bought a single-detached house in the Charansanitwong area, which is one alley away from the old house. I have been living in this house for 7 years and planning to buy a condominium after getting married.
House-moving decisions were mostly made by my parents. When my parents got married, they used to live in a 36 square metres condominium. They felt cramped, especially when there are a lot of stuff with little storage space. Later on, one of our acquaintances suggested that there is an empty townhouse, and it's perfect if they wanted to move. With enough savings, my parents decided to get the house, and that was right around the time my sister was born.
I and my mother had several conversations before buying the single-detached house because my mother wanted the house with more space, which the townhouse couldn't deliver. Even though the townhouse is not bad, but it's not the best either.
"My mother wanted to live in a single-detached house, so she was the one who managed the whole process. When she knew about this project, she quickly went there, signed the contract and then came back to tell my father. My father was concerned about not being able to pay the instalments, but since my mother knows all the financial cash flow of the family, and she was certain that they could easily afford it. That was when my father realised that my mother had a lot of savings."
Present: single-detached house
For my current house, I know if I told my mother that the house was not the right one for me, she will be sad. It's because she bought it without consulting me first. Travelling around is not as convenient as it was even though the two houses are only one alley away from each other. The new house is located deep into the alley. When I was still a student, my father needed to always give me a ride, which could be a burden to him.
"From my old house, the bus stop was only 800 metres away and I can walk there. I was in my 5th year in the Faculty of Architecture at Silpakorn University when I moved to the new house and that makes commuting harder. At the old house, I used to hear the bells of vendors passing by, but the new house is in complete silence.
I spend most of my time in my working area. At first, I was working in the storage room, but there are a lot of mosquitoes and the ventilation is not the best. Therefore, I decided to move my working station to the dining room, which also had a television. I love watching it while I'm working.
The floor plan could be weird since we have a dining table between the television and working space. As if the extra table pop out of nowhere near the dining table. I'm currently using the rotating chair, so I can easily turn myself back and forth between the working station and dining table. Even though it might be a little off, it works and I spend most of my time there.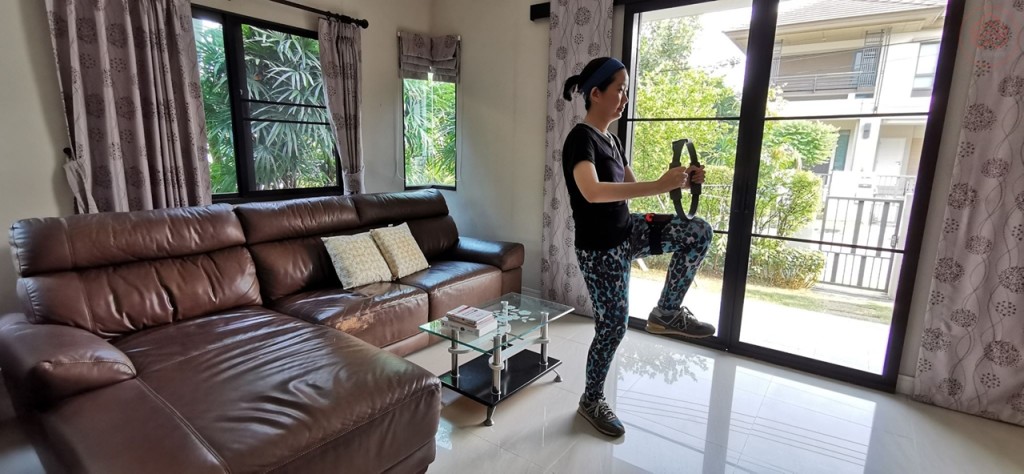 The good thing about moving here is the house is spotless. My parents take care of the house so well and they only allow few messy spots. The rest of the stuff will be in the storage room. We didn't have enough storage room at the old house, so we ended up with every room being so messy.
Other than that, the surrounding of the current house is appropriate for exercise. I can get fit and there is also a lawn where I can walk and relax. This is the part that I love the most about the new house.
Size Does Not Matter
I'm not really into a big house because I'm so used to live in a townhouse with only front and back doors. However, there are a lot of windows and doors in the new house. Since I'm always the last person going to bed because I like to work at night, it's my job to close all the doors and windows. Back then, we had a security alarm, and that made it even harder to close. I solved this problem by moving my working station to the bedroom, but it wasn't working because the lack of space and working in bed just worsens my backache.
In the end, I decided to go with the least favourable solution for my dad, which is to close all the doors and windows and turn on my fan before working. My dad's concern is that the air and ventilation would not be enough, but I just could not close all of it after work because I'm so tired. This makes me feel that the condominium could suit me way better.
Future: condominium
I'm planning to get married next year. I've been talking with my partner about whether we should buy a house or a condominium as both of them have their pros and cons. We can enjoy larger space if we buy a house. But with our current financial status, we could only afford a house near the suburbs of Bangkok. If we decided to buy a condominium, even though the space is smaller, but the location is fantastic. We often use sky train to commute and the current house could not deliver the convenience we need as it's far from the stations. Therefore, I think I prefer a condominium more than a house.
"I decided to buy a 28 square metres condominium in Huay Kwang as we are not planning to have any kids, so we don't need a lot of space."
My parents did not support this decision because they did not have a good experience with living in a condominium. At first, my parents were going to give us the old townhouse as a wedding gift, but I like how the condominium is easier to commute and keeping it as my father's asset could be a better decision. The house has a lot of potential and it's not too far from MRT Blue Line Fai Chai station at around 1 kilometre.
When I was looking for my new house, I was searching through websites such as DDproperty, forums, and reviews. I wanted to see if there were any interesting places between 2-3 million baht and near sky train that I want. I had my boyfriend, who is an architect, help with the floor plan.

"There were many reasons I bought this condominium. First, an outstanding location with only 2.49 million baht is such a steal. Normally the price should be around 5 million baht. I got it cheaper because I signed the contract during presale and also got a discount."
Another factor that I chose this condominium as my bridal house is because of the surroundings. It has convenient stores, restaurants, and it's not overly crowded with people. I love the privacy, marvellous floor plan, and it's also in the right spot to get a nice breeze. The condominium construction was expected to finish in July 2021. If everything settles, I would use it as my office as I'm a freelancer while my boyfriend needs to go to his office.
"Another reason is when I was in university, I was living in a dormitory, and I thought it felt so right with that small room. I don't enjoy doing chores, so I can manage this better with a smaller space."
All change?
My normal lifestyle would be working and walking around in the city, so I think it's a good idea to have a condominium in the middle of the city. This would make travelling a lot more convenient. If I completely moved into the condominium, I don't think my lifestyle would change that much. I will still go to the same place and work at home and a coffee shop as per usual.
One difference is I can spend more time living together with my boyfriend. Another thing is I don't cook, so I need to think about this for the future. I'm quite certain that we would just buy food from restaurants.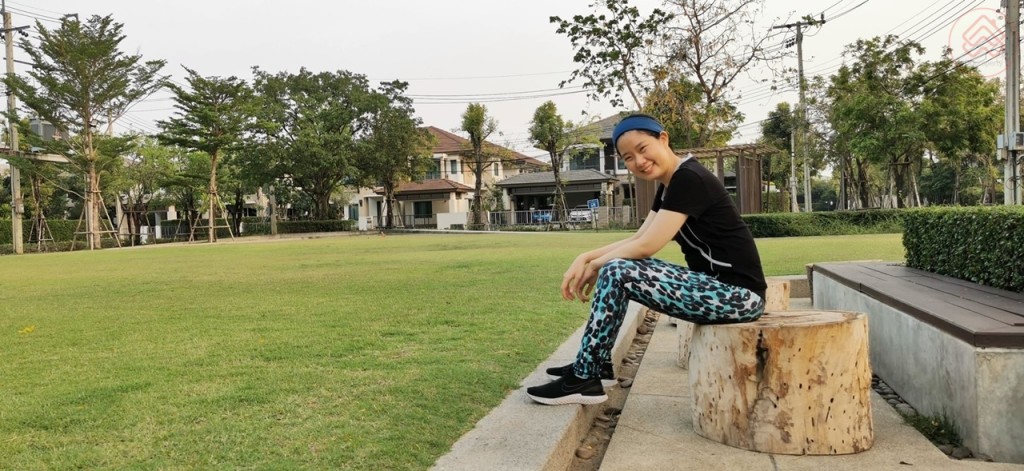 A family in a condominium?
My dream home would be a condominium. It needs to offer everything I want; a clean bathroom, nice office, comfy space, makeup vanity, and work station. As you might notice, I'm not talking about the kitchen at all because I'm not cooking, so my boyfriend will choose the kitchen he likes since he is the only one who cooks.
My boyfriend is so excited about the new condominium even though it's still in progress. As of right now, we have split roles. I'm organising our wedding and my boyfriend is working on the floor plan for the new house. I trust his taste and trust that he would make the best decision for our house. He keeps updating me with his ideas and progress as if I'm his customer. I'm thrilled about that."
Stay abreast of the industry's news and updates sending directly to your inbox, sign up here.
Disclaimer: The information is provided for general information only. DDproperty by PropertyGuru c/o AllProperty Media Co., Ltd. makes no representations or warranties in relation to the information, including but not limited to any representation or warranty as to the fitness for any particular purpose of the information to the fullest extent permitted by law. While every effort has been made to ensure that the information provided in this article is accurate, reliable, and complete as of the time of writing, the information provided in this article should not be relied upon to make any financial, investment, real estate or legal decisions. Additionally, the information should not substitute advice from a trained professional who can take into account your personal facts and circumstances, and we accept no liability if you use the information to form decisions.