Families searching for a new place to cater for expanding family size could be stressful. However, it could be tougher for families that are getting smaller, especially when you just become a single dad or single mom.
Just like Khun Pui, she uses DDproperty website as portal hunting for a new house for herself and her beloved daughter. We will see her criteria in choosing the right house when she became a single mom, a person who has all the responsibility fall on her shoulders.
A place for a smaller family size
Khun Pui had dreamt about having a beautiful single-storey detached house with 3 or 4 bedrooms, but when life got tougher, it forced her to become a single mom. Her attitude changed.
Many people dream about having a big house with great security and lots of space for their kids and family.
However, when becoming a single mom, the criteria for the house has changed. Instead of buying a big house, a
townhome
might be a better choice to save money and to avoid placing too much financial burden on the family.
The townhome that fits Khun Pui criteria has a usable area of 110 square meters and even though the total space is not that big it is enough to cater for the needs of the family members. The house has 3 bedrooms and a bathroom available for both floors. It has the space for family activities.
"The reason I bought the house in the corner is that it offers bigger space for family activities such as gardening, playing and family partying.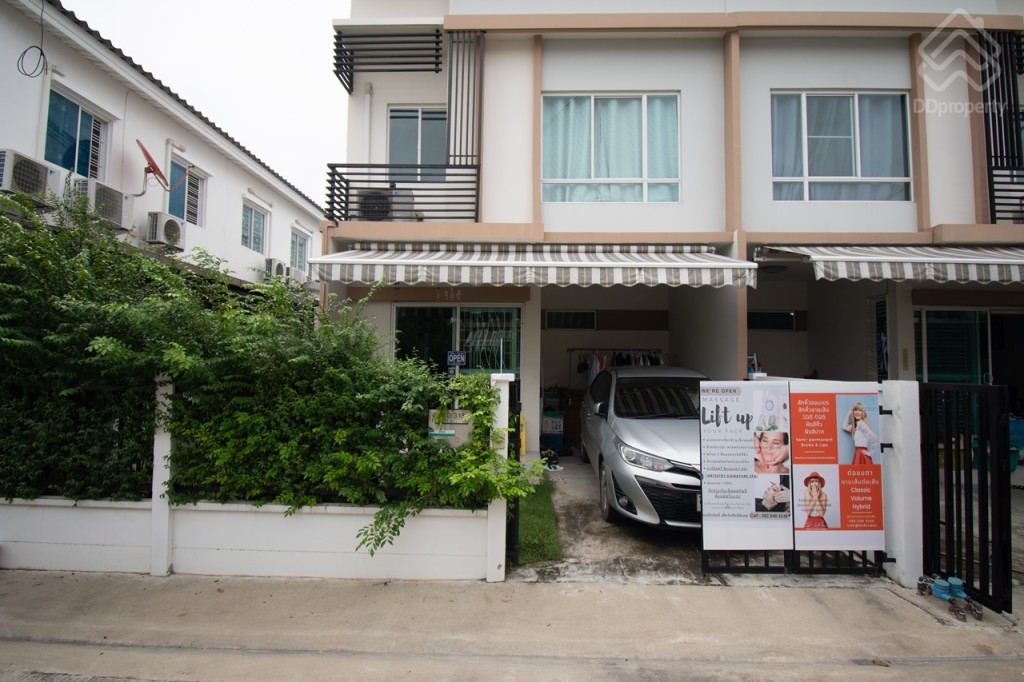 Consider the facts
No one expects that one day you will become a single mom. It is important to have family planning and if the relationship does not work, you may become a single mom. The first thing you need to do is to be conscious about everything that's going on.
Especially for a single mom who wants to have their own house, first, you must consider how much property, income, and debt you have. Not everyone can start their perfect life immediately, so financial planning is very important. The budget you have is one factor that could help you buy the house.
"When you finally figured out the budget for the house, then consider the location, surrounding and the neighborhood, also the transportation and how heavy traffic jams are in rush hours. How great is the school in that area? Do they cover from kindergarten to high school or even university? Living expenses and lifestyle also need to be considered.
Total expenses for a house loan
When the perfect house is chosen, the next thing to worry about is how to get a loan. Being single and more expenses to taken care of, it is important to learn about the loan process.
"I was so worried that my loan application could be denied. Therefore, before decided to get a loan, I did a lot of research from property websites such as
DDproperty.
"
When I feel like I'm ready and have all information and know where the best place to get the loan, I need to clear all the debts I have such as credit card debt, instalment payment first before applying for a loan. It is because the loaner needs to have expense less than 40% of the regular income.
"Luckily, the company that I was working with is a member of one bank for home loans. I got approved with the full price of the house and also the decoration expenses. So the process went well."
I've spent 7 months hunting for the perfect house paying no deposit money because I need to make sure that the loan is approved before paying so I don't lose all the deposit money.
"When you're taking a tour looking for a house, don't rush and don't be persuaded by the seller. You need to make sure that you want it."
Managing your money can be tough
It is known that the house instalments can be paid for up to 30 years but the floating interest rate after year three making you careful of your financial plan.
"The first thing you need to do is try to reduce the principal as fast as you can and ensure that it has no impact on the limited amount of income. When I feel like I need to pay off the debt faster and paying less interest, I decided to do a side job for extra money. However, you need to know that it might not help that much as with many businesses. It also needs investment money.
Therefore, considering your financial ability, if you have limited investment money, try things with lower risk or something that doesn't need investment money, for example, if you could do graphic design or writing content, you could be a freelancer. As of now, I have a few jobs and the latest business is a salon for eyebrow and lip tattoo, eyelash extension and face massage.
"Being a single mom, you have a limited time, so time management is key. I need to also have time for my kid. I know it's tough, but I believe that all single moms out there can achieve this."
Message for single moms
You could live in the house for 10 years or maybe even forever, so before making the purchase, you need to carefully decide on the price, location, and your ability to pay the debt.
When you're single and need to pay the house instalments along with taking care of your family, the first thing is to choose the proper size of the house for your family. This would save you a lot of costs and allow you to have space for every member of the family.
"Another way to save money is to
refinance
. This would ease the debt payment process by adjusting the floating interest rate to a fixed interest rate like the first three years. The most important thing is your financial discipline and on-time payment."
"This house is a safe place for me and my daughter. If one day I'm not here on this planet, I know my daughter will have a safe place to live. The house is the basic need that could affect the future as well.
Stay abreast of the industry's news and updates sending directly to your inbox, sign up here.