The "Pearl of the Andaman"
[Special Advertising Feature] Phuket, also known as the "Pearl of the Andaman," lives up to its name as a tropical paradise filled with stunning beaches, teal sparkling seas, lush green rainforests coating the hills and mountains, and lively towns that provide all the necessities, cravings and luxuries anyone could wish for. Thailand, according to International Living, ranks as the 9th best country in the world to retire in, with Phuket being one of the best destinations in the country. To this day, Phuket remains one of the best places in the world for retirement, tourism and a place to call home.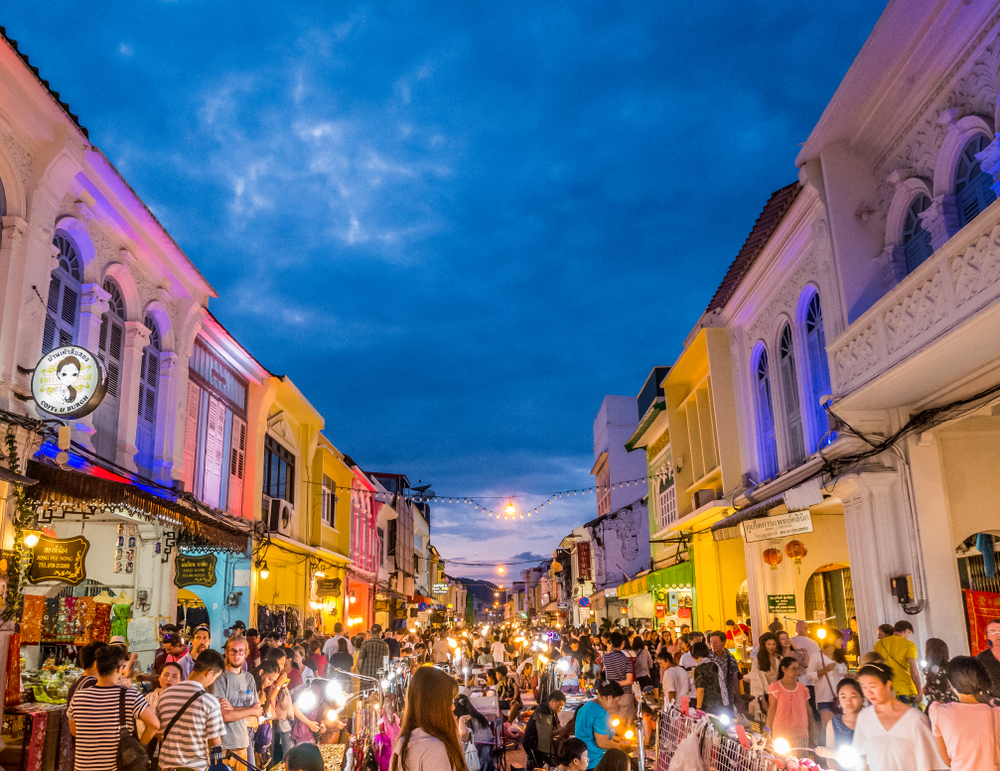 Pic via Shutterstock
There is always something to do in Phuket, whether you are a solo adventurer, a young couple or a family with children. The wide array of activities around the island are sure to fulfill your every craving, whether they are man-made attractions or natural hidden gems ready to be explored. Being 30 miles in length and 13 miles wide, the island is easy to drive around in, which makes all of its beautiful wonders and popular attractions within short driving distances from each other. One of the most distinct characters of Phuket is that it caters to all tastes and preferences, with a delightful balance of tranquility of the beaches to full-on urban swing. Small untainted coves can still be found around the island while still being in close proximity to all the major amenities that you need; such as local boutiques, shopping centers, markets and restaurants serving huge selections of western and Asian food. Not to mention the best seafood experience without having to empty your bank account!
Pic via Shutterstock
Phuket is Thailand's largest island, with a population of almost 600,000 people. Numbers are sure to be on the rise as the province is growing rapidly. Around 115,000 expats from around the globe have already made Phuket their home. In comparison to other countries, Phuket has a relatively low cost of living despite being a global destination with international facilities, making it a popular destination to settle in. One can comfortably live anywhere on the island with a monthly budget of 2,000 USD. The most expensive cost is food and rent, with the latter being quite high. So why not save on rent by claiming a little slice of paradise to call your own? 
Introducing Utopia Thalang
Utopia Thalang – a residential villa project comprising of 129-villas integrated in a simple Japanese-style village, combining the minimalist and beautiful aesthetics of Japanese culture with the soothing greenery of tropical Phuket. The 2/3-bedroom villas are designed in pure Japanese style creating the perfect blend with its green luscious surroundings. Featured in this picturesque Japanese style village is a public swimming pool (14.33 m. x 8.6 m.), Japanese gardens nested between the villas, a public community area and a children's playground. Utopia Thalang is sure to meet all of the requirements of people who want to live in the peacefulness of nature while still being able to access the comforts of city living just a few minutes away.
Perfect Location
The project is located only 100 meters from Road 402, which is the main road in Phuket starting in the north of Phuket from Sarasin Bridge (the main link to Phang Nga mainland) right into the heart of Phuket town. Phuket International Airport is only 10 minutes away, making it the ideal residence for airport personnel. A large number of domestic and international flights are served in and out of Phuket, making it easy to plan your holidays or for a quick escapade when you feel like a change of scenery. Below is a quick list of some of the major cities that you can reach out of direct flights from Phuket:
Bangkok
Chiang Mai
Koh Samui
Hat Yai
Pattaya
Singapore
Kuala Lumpur
Siem Reap
Beijing
Kunming
Seoul
Hong Kong
Melbourne
Sydney
Moscow
Helsinki
Frankfurt
Copenhagen
Stockholm
Dubai
Abu Dhabi
Doha
Pic via Shutterstock
Residents with children also have access to international standard education, as the UWC Thailand International School is located only 3 minutes' drive away, and British International School is on the same road 20 minutes south, making school drop off and pick up times convenient. Golf enthusiasts would be delighted to know that Utopia Thalang is in close driving proximity to the many golf courses in Phuket, including Southeast Asia's famous Blue Canyon Golf Course. If running out of groceries, Makro or Tesco Lotus are only 3 minutes away, while if you need just a quick grab, a 7-11, a KFC and an Amazon Coffeeshop are conveniently located within walking distance. Another advantage of Utopia Thalang's location is that it will be right in front of one of the stations of the upcoming Phuket light-railway transit system which is expected to be completed in 2023. Residents will have the luxury to travel to the airport, Phuket Town and other parts of Phuket without using a car.
Sound Investment
A calm Japanese village located in the middle of luscious green forests, within a short driving distance to the beach and right next to Phuket's future main transportation, makes Utopia Thalang the perfect piece of paradise to invest in. It has a very accessible starting price for a very comfortable tranquil lifestyle. Once bought, Utopia Thalang continues to service and maintain the property as a 5-star residence hotel. Investors, homeowners and residents can continue to enjoy all the privileges and benefits available, without having to worry or be burdened by property maintenance.  Investors and owners are also able to enjoy a return of investment from the project's rental program.
The Perks
The benefits of becoming the owner of these gorgeous villas include 24-hour security,  24-hour petrol station and shuttle services. As an owner of Utopia Thalang's property, you will also have access to Club Utopia membership, with an opportunity to enjoy a variety of perks, discounts and benefits with our partners all across the island.
Moving to Phuket allows you to experience an exotic tropical life combined with the energy and liveliness of a city. And at Utopia Thalang you can find the perfect combination at the comfort of your very own home.  It is your dream lifestyle, on a little piece of paradise, at an affordable price. Contact our sales representatives now to find out more and claim your piece of paradise!
Stay abreast of the industry's news and updates sending directly to your inbox, sign up here.